A common problem that business owners see when growing their business is an influx of customer service calls coming in without the bandwidth to handle them. The two most prominent options that are typically considered to resolve this problem is by outsourcing a call center or hiring an in-house team of reps.
Choosing what's right for business can be an incredibly difficult decision.
You want to make the best choice, but there are so many factors to consider—your budget, your employees' well-being, and the scalability potential. The list goes on.
There are pros and cons to each option for solving your customer service issues. Here are our tips to figure out which option is the right one for your business.
Outsourcing Customer Service
In some cases, the term "outsourcing" has a bad connotation. For instance, there has been a big push to move manufacturing to the United States in the retail space because outsourcing materials and production resulted in a lower quality product, communication was difficult, and their partner cut corners.
This is certainly not the case in all instances. Outsourcing services can be the ideal option for your business.
You may be asking yourself, "what exactly does outsourcing entail?" Well, outsourcing a company, specifically to fill in your customer service needs, means hiring a call center or an answering service that will work as an extension of your team. The term outsourcing means "to obtain (goods or a service) from an outside or foreign supplier, especially in place of an internal source."
Most of these services provided by an outsourced company have different options to fit your business needs. On the simpler side, they can answer calls and route them to the right salesperson or tech. On the more involved side, an outsourced answering service can respond to emails, send text reminders, schedule calls, and answer top-level customer service questions.
Pros of Outsourcing
Ability to Scale
Adjusting to the flow of business is simple when you outsource. The majority of call centers will be able to scale their services as you do, and as quickly as you do. You don't have to worry about adding infrastructure or staff, and the time it takes to go through the hiring process.
Reduction in Cost
Hiring in-house customer service reps are just another salary to add to your books. By outsourcing your customer service, you will most likely have an agreed-upon fee you pay for their services on a monthly or yearly basis. This reduces the cost of an employee or hiring an in-house team in salary and overtime pay, medical insurance, and paid time off.
Frees up Time
Removing the responsibility of customer service from your employees allows them to focus on higher priority tasks. You won't have to have someone "manning the phones" and get taken away from more important tasks like improving business development processes.
Professional Staff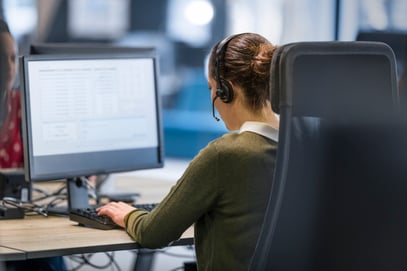 When you outsource your customer service, you automatically gain experts in the customer service industry. They are trained to be a seamless extension of your company, meaning they will work off your scripts and treat each customer as your in-house team would with the same amount of compassion and empathy. You can fully trust that your customers and clients will be treated with the same care and professionalism you would give personally.
24/7 Service
With an outsourced customer service team, they will have agents working around the clock for your business. This means you won't miss sales leads calling after hours or customers trying to get in touch over holidays.
Cons of Outsourcing
Lack of Total Control
When you outsource your customer service, you have to give trust and control to another company to handle your clients. They will most likely provide reports and feedback of calls and issues, but this can be extra scary for companies that are still establishing themselves in their industry and trying to put their best foot forward.
Inadequate Brand Awareness
Although an outsourced answering service can fully understand your industry, they realistically won't have a 100% clear vision of the goal you have for your brand. This is something that you can provide them with training to help with, but it can be hard to guarantee that every single rep in the outsourced call center will abide by your brand guidelines completely.
Sharing Customer Data
You will have to share private customer information with whatever company you outsource. This can be especially frightening in today's world where data seems to be stolen often, especially in the medical industry, when you have to be extra strict and guarded with your clients' information. The best thing to do is make sure you and your customers are protected under contract, and you partner with a trustworthy company with the necessary security measures (like HIPAA compliance for protected health information) and experience in your field.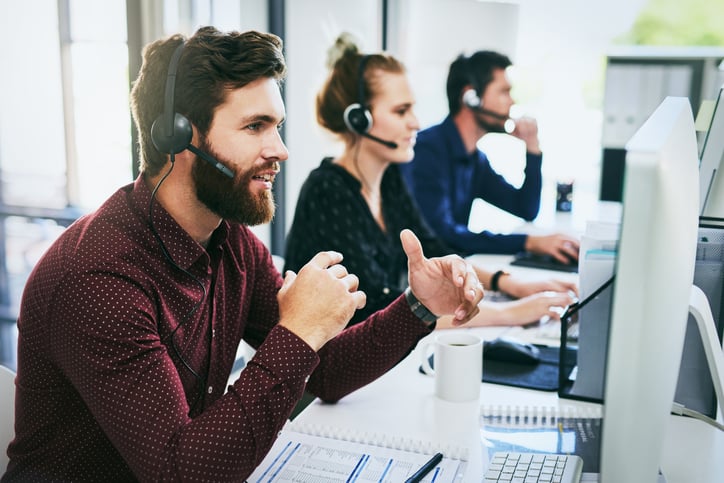 In-House Customer Service
The other option to solve your customer service needs is by hiring in-house customer service. This can be in the form of one person or a larger team, depending on your needs.
Hiring an in-house team means they will be on your payroll and direct employees of your company. You will be responsible for interviewing them, hiring them, their salary, benefits, continued education, and productivity.
The option of hiring in-house customer service representatives is appealing to business owners because they have full control over what is said, how it's said, and can oversee their employees better. Still, all of this responsibility is not ideal when you're running a business. It all depends on what you are looking for as a business owner.
Pros of In-house Solutions
Personal Touch and Control
By handling your customer service in-house, you will get full control over the process. While this makes sense for companies with few clients, as you acquire more customers, this will be difficult –and impossible—to maintain. If your goal is to be a very attentive, more of a mom-and-pop shop, hiring an in-house team may be the best option for you, so you don't have to relinquish control.
Quick Implementations of Policy Changes
Company policies are inevitably going to change over time. By having an in-house customer service solution, you will be able to implement these changes immediately, while a third party may drag out the implementation. It doesn't mean an outsourced team is incapable of agility, it may just take them longer to adjust as a third party.
Technical Support
In-house solutions are also able to give your customers and clients the appropriate technical support. This means your company will be able to resolve resolutions on the spot and help with troubleshooting issues where an outsourced partner might only be able to create a trouble ticket and schedule appointments.
Cons of In-house Solutions
Costly Infrastructure
One of the biggest cons of hiring an in-house solution is the costly infrastructure and overhead. As the business owner, you will not only be responsible for equipment but also all the liabilities that come with retaining an in-house team including salaries, overtime pay, benefits, training, and continued education if necessary. This can quickly get expensive, especially when you start to scale.
Requires Training and Management
The amount of time it takes to hire one person or a team alone can be a big deterrent to any company owner. You will have to come up with the criteria and post job openings, give interviews, schedule follow-ups, then prepare them with training once they are hired.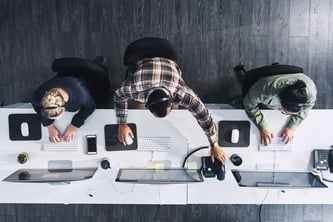 You may have an HR team to help with this, but as the business owner, you will most likely be involved with part of this process. Again, these responsibilities can be an issue when you are trying to scale your business.
Downtime for Support
When your office closes, your phones and your customer service closes. This causes frustration for your customers, especially in a time-sensitive situation, because they have to wait for their issue to be resolved the following business day, or even longer. This can give your business a bad reputation over time.
Takes Valuable Time
Dealing with customer service and in-house your employees takes time away from your more important tasks like tightening up processes or working on business development.
Choose the Best Service That Works Best for You
Deciding between hiring an answering service and hiring an in-house team of customer service reps can be a big decision for your business, but either option you choose will help out with your business needs. Go with the option that best fits your needs. If you're trying to scale, outsourcing an answering service would be your best bet, but if your main concern is that your clients have an ultra-attentive experience you can micro-manage, hiring in-house might be ideal for you.