Our Awards
A Better Answer prides itself on providing the best telephone answering services and superior messaging and we have the awards to prove it. Most awards are given out by independent judges who evaluate the call center over a 12-month period on the criteria like response time, courteousness, accuracy, knowledge and impression.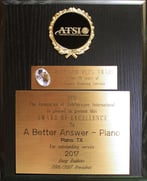 This award is presented annually by the Association of TeleServices International (ATSI), the industry's Trade Association for providers of telecommunications and call center services including telephone answering and message delivery across North America and the UK. Independent judges are contracted by ATSI to evaluate a call center over a six-month time period on the following criteria:
Response Time
Courteousness of Rep
Accuracy of Call
Knowledge of Account
Overall Impression of Call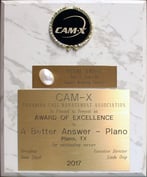 This annual award is presented by the Canadian Call Management Association (CAM-X), the industry's trade association for call center services including telephone answering and message delivery.
Founder, President and CEO of A Better Answer has been an honoree in Dallas Business Journal's Women in Business. The Dallas Business Journal staff narrows down a list of more than 100 people each year and names just 25 honorees.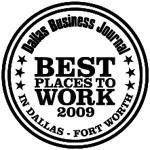 A Better Answer was honored at the 8th annual Best Places to Work awards luncheon at the Intercontinental in Addison, Texas as one of the top 100 small businesses in Dallas Fort Worth as A Best Place To Work for 2009 by its employees and the Dallas Business Journal!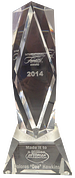 Current research shows that only 2% of women owned businesses generate revenues of $1 million or more annually. This award recognizes "an outstanding eWomen Network member who has demonstrated exemplary leadership and business skills in the course of starting and growing her company."
ATSI 24/7 Site Certification
Since 2009, A Better Answer has maintained the annual ATSI 24/7 Call Center Site Certification. The certification program sets forth nearly 60 criteria that need to be met or exceeded. They represent a collection of the best practices and guidelines that our TAS sites adhere to. ABA has demonstrated to the satisfaction of the Certification Committee a high level of proficiency in recovery techniques, good business practices, documentation of procedures, and levels of redundancy necessary for 24/7 preparedness.
A Better Answer was the first runner-up for The Employer Excellence Program of the Texas Federation of Business and Professional Women's Clubs, Inc. in 2004. ABA was awarded a certificate for outstanding accomplishments.
Dee Hawkins was awarded a "Women of Influence" award by the Great Women of Texas, Professional Business category. The event originated in 1989. The Fort Worth Business Press recognizes outstanding women with the award.
A Better Answer accepts a federal grant from the "Employee Development Fund" of the North Central Texas Workforce Board for employee training. Curtis L. Wade, president and CEO of WADE Consulting Group, said the training is specifically designed for avoiding the pitfalls of working in a call center.