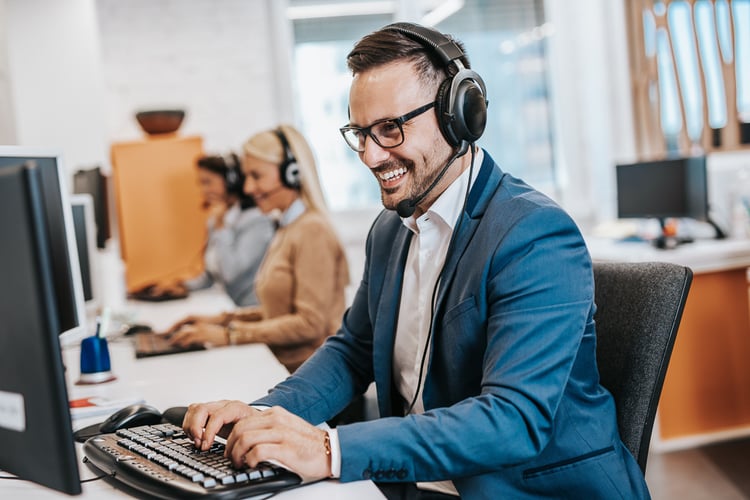 Standing out among your competitors is no longer about having cool branding or witty content — it's about the whole customer experience.
The customer service your prospects and customers receive has a significant effect on your business. A negative interaction can make prospects write you off, while positive experiences can garner lifelong brand loyalty.
Businesses must provide a high-quality customer experience, and that involves every stage from beginning to end.
One way to stand out is by delivering more personalized customer service. Let's take a look at how your company can provide it.
Address Customers by Their Name
A well-rounded and positive customer service experience boils down to the details.
While calling a prospect or current customer might seem like a minuscule detail, it makes all the difference.
Studies show that hearing your name stimulates brain activity.
Saying a prospect's name when you are talking to them or greeting a current customer by name will help build a strong personalized customer experience.
If you or your team don't know the customer's name, try your best to find it out. Check caller IDs, past receipts, or your client database if you have a moment.
Using a client's name helps build a strong relationship, shows that your business cares about its customers, and makes them feel like you're on their side.
Offer Multiple Customer Service Channels
A Better Answer(R) is to provide a personalized customer service experience and offer your support through many different channels.
Each person — whether they're a client or a prospect — has a preferred method of communication. In-person communication is limited in the digital age; plus, COVID-19 has kept more people at home. To cater to your target audience's preferences and hindrances, your customer support team should be available via text, chat, call and email. Your customers should have every possible opportunity to get in touch with your business.
While many customers (48% to be exact) still prefer to call over the phone for customer support, the next preferred communication methods are text and chat.
Offer chatbots, contact forms, social media support, review forms, phone service, and email to get in touch with your customers — this way, your customer can choose the channel of communication that suits them best.
It's also important to provide the right equipment and tools to enable your customer support team to thrive. Make sure you've implemented an easy-to-use customer relationship management system and filled in staffing gaps.

Rely on Customer Feedback and Preferences
Learning what your customers like and dislike is one of the best ways to gather feedback on your customer service experience.
Using customer feedback will allow you to see where your experiences fall short and need to be improved. On the other hand, it will also let you know where you're doing a great job.
Guessing this information or assuming you know what your audience wants is not reliable. Try to gather data before making any changes to your processes. You can collect this information by offering a short survey after each customer service call or chat. Then, set up a review schedule, and be sure to request a formal survey when a client is offboarded or leaves a negative review online.
Finding what caused a negative experience, what kept a customer coming back and what would improve their experience is the best way to locate and diagnose problems in your customer service department.
Make sure you have the appropriate time and infrastructure in place to handle your support channels as well. For instance, if you are continuously receiving an influx of chat tickets, but you only have a few people answering phone calls and ignoring chat, it's in your best interest to change employee responsibilities or outsource help. You can do this by hiring a virtual assistant or a company to help you handle your customer service.

Add a Human Touch
As our society has moved into a highly digital age dependent on automation, companies often forget that a human touch is the secret ingredient to satisfactory customer service.
Customers and prospects don't want to feel like they are talking to a robot or a frustrating automated system.
When communicating with current or potential customers, try to be engaging and give hints of normal human interactions, like asking how their day has been. If they mention a pet, try asking what the pet's name is or what kind of breed it is.
On the flip side, make sure your staff has the emotional intelligence and experience to know when a customer is upset and needs a speedy resolution. When this happens, friendly chit-chat is not always advised. Your customer service should adapt to the preferences and demeanor of the customer.
Instead of relying on scripts, provide a situational outline for your employees to reference to produce more organic dialogue.
Try offering a friendly and personalized greeting, giving compliments, and ending the interaction on a positive note.
Highlight and Reward Customer Loyalty
Highlighting customer loyalty will encourage other customers to practice that same brand loyalty.
Your company can highlight customer loyalty through social media posts, customer testimonial videos, and reviews.
To reward your most loyal customers, offer them discounts, first peeks at new products, exclusives and free trials. Recognizing your customers will improve your customer lifetime value.
Benefits of Personalized Customer Service
Adopting a personalized customer service experience offers many benefits, such as increases in:
Customer loyalty
Customer engagement
Customer retention
Customer lifetime value
A high-quality support experience will also allow you to gather more data from your customers regarding their communication preferences and thoughts on your support process.
Adopt a More Personalized Customer Experience
A personalized customer service experience will help you retain customers and stand out from your competitors.
To implement an exemplary support service, make sure you address your customer by name to show they are not just a number, provide multiple channels to reach you through and add a human touch to every interaction.
Once you take time to implement a unique and personalized customer service process, you will see a boost in customer satisfaction. If you don't have time to carry out these changes, hiring an answering service might be a better answer for your needs.