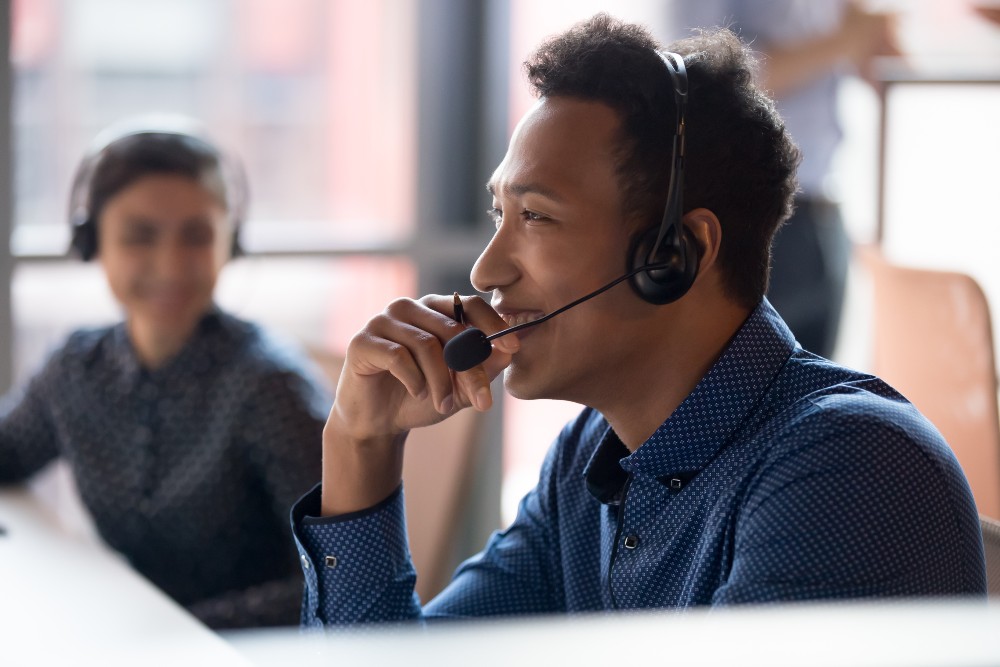 In an ideal world, customer inquiries are answered and problems are solved during the first contact with a business — but this is not always the case.
When customers don't get their answers or resolutions the first time they contact a business, it leads to frustration, loss of business, and a poor outlook for your company's reputation.
On the other hand, a high first call resolution (FCR) rate increases customer satisfaction and loyalty as well as revenue and efficiency to give your brand an exemplary reputation.
According to SQM Group, "86% of customers who phone into a call center expect their call to be resolved on the first call and for every follow-up call, customer satisfaction drops by 15%" proving a high first call resolution rate is crucial for any business.
So what are other ways improving your FCR helps your bottom line and customer satisfaction? Let's find out.
What Is First Call Resolution?
First call resolution (FCR) is a metric that call centers and answering services use to measure customer satisfaction.
As you can guess, first call resolution is the rate at which an issue is resolved the first time a customer calls in to a company, without the need for follow-up communication.
A high FCR means your customer service representatives are resolving inquiries during the first interaction with a customer or prospect. High FCR typically includes shorter talk time.
A low FCR often means low representative performance — but that is not the only metric measured. A low FCR is a compilation of other factors too, like inefficient software and processes or a lack of training for customer service staff.
How To Measure First Call Resolution Rate
Measuring your first call resolution rate is the first step in improving your rate.
Knowing where your agents or processes are falling short is the best way to figure out how to help them succeed.
Calculating FCR includes post-call surveys asking the customer if their issue was resolved. This survey can be conducted by a third party or an automated system.
Once you've gathered this data, your first call resolution calculation can be found by taking the total number of calls resolved on the first call (say, 7,000) divided by the total number of first calls (10,000), which would give you a 70% first call resolution rate formula.
Tips To Improve First Call Resolution
There are many ways to improve your overall customer service tactics, but when it comes to first call resolution, these are specific ways to improve.
Provide Thorough Employee Training
One of the best ways to improve FCR is with appropriate and thorough employee training. When your representatives are set up for success, they can do their job better.
When customer service reps have the correct training, they're able to handle the majority of customer calls on their own without having to pull in a manager or conduct follow-up calls. Of course, there will inevitably be situations where managers need to get involved or issues cannot be resolved on the first call, but this should be a rarity.
Your customer service agents should be knowledgeable in your business, products or services, policies, programs, and know-how to handle the most common customer service calls.
While a thorough training process is crucial, adding an internal knowledge base for your customer service agents to easily reference will give them more power to solve customer issues on the spot.
Employee training will be different for every company and industry, but as a best practice, all customer service agents should provide the following when implementing customer service tasks:
Provide personalized and friendly service
Effectively communicate and understand issues and inquiries
Provide resolutions to satisfy the customer
Understand and anticipate customer needs
Answer Calls Quickly and Make It Easy for Customers To Contact You
Getting in touch with your support team should be easy.
If customers have to jump through hoops to get in touch with you, they're going to be agitated by the time they finally talk to a representative. When this happens, you start the call on the wrong foot.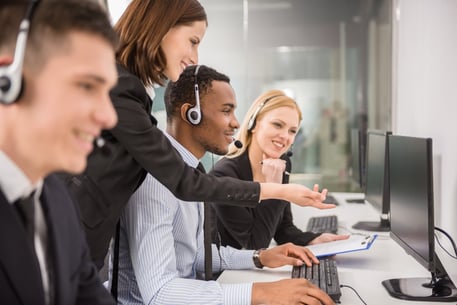 The more effort it takes for customers and prospects to get in touch with you, the lower your FCR goes.
Long hold times bring your first call response rate down because when customers are calling already frustrated, the call tends to turn into a combative, "Why is your customer service so slow?" instead of a happy, "Can you help me with this?" conversation. Your agents then have to deal with multiple problems, which can be challenging to resolve on one call.
Set Clear Goals for Customer Service Agents
When customer service agents have clear and attainable goals, they're likely to work harder and as result, successfully increase your first call resolution rate.
Customer service agent goals should coincide with the overall business goals. Let them know that boosting your company's first call resolution rates is a top priority. When agents know this is the goal, they can strive to reach it.
Make sure you don't set too many expectations at once, as it can be confusing and difficult to achieve. Instead, plan monthly, quarterly, or yearly goals.
To help achieve goals and raise your FCR, try incentivizing your reps. Rewarding employees who reach these goals and have a high customer satisfaction rate shows you care and will build healthy competition so your employees can improve.
Gather Feedback and Implement the Right Tools
Another way to boost your first call response rates is to analyze your current processes.
You might think the programs and processes you have in place work fine, but checking the data and gathering feedback from employees will help you better understand which systems work great and which ones need to be adjusted for higher efficiency.
There are many resources sharing helpful ways to audit your customer service process to help you conduct audits.
Company owners should run consistent audits to gather feedback on all aspects of the business. Software changes, technology advances, and customer needs shift — keeping up with these trends is critical.
The software and processes you've used for years can easily become an impediment over time.
As an example, when reps have to wait five minutes for a program to load before helping a customer, both parties become frustrated. But in most cases, this is an easy issue to resolve.
Providing the right tools, systems, and streamlined processes to help customer service reps work efficiently will help increase FCR and customer satisfaction.
Hire a Call Center To Help
Building an in-house customer service team can be challenging, time-consuming, and expensive.
Instead, hire a call center to help with your customer service needs. They'll be able to help boost your FCR without the comprehensive troubleshooting process we described above.
Offering a productive and helpful customer service experience for your customers will increase sales, boost customer satisfaction and retention, and build a solid reputation for your business.