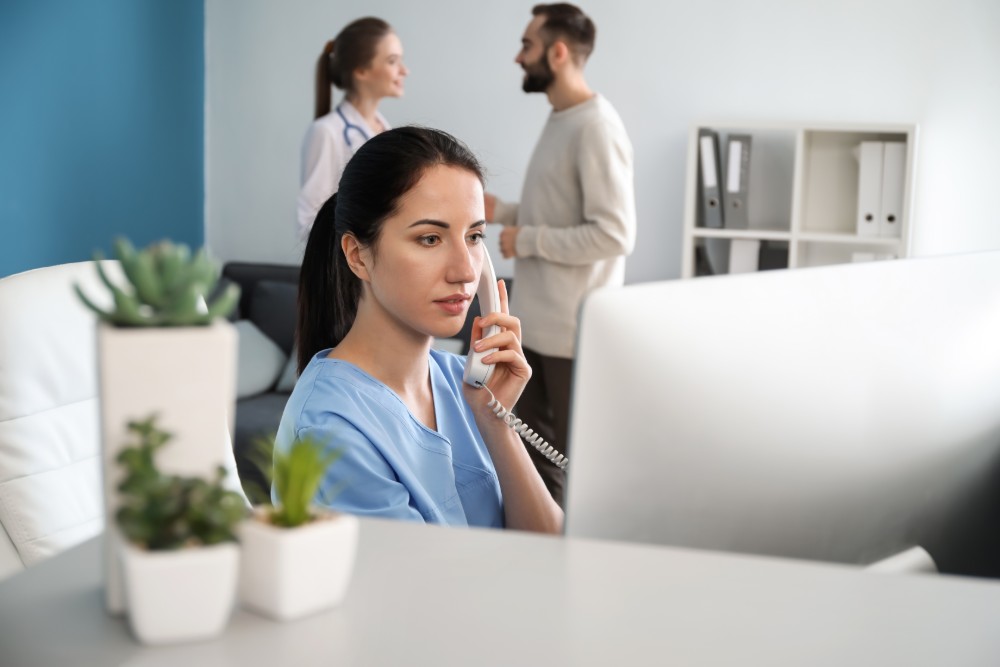 A high volume of calls during a busy season may be a good thing. However, it could also mean having problems in handling a large volume of calls and other tasks falling to the wayside. For many companies, their phone lines are their lifelines, and missing important calls can become costly. Understanding how to optimize phone lines means that business can get done and revenue continues to grow.
Optimizing your phone lines involves a few steps. First, it is important to understand how your phone calls change during different months or seasons. After analyzing data, the next step is to make changes that your business can sustain. The final step involves looking back at the new data to see if the changes helped.
How to Deal with a High Volume of Calls During Your Busy Season
When your business picks up, you may have to make changes before you can analyze data. Being prepared is vital, especially if you want your business to succeed.
Determine the Cause of High Volume Calls
Seeing an increase in calls can mean a few things. First, your sales may be growing. And customers are calling because they have an interest in working with you. Another reason could be that your business recently ran a marketing campaign and potential customers saw the ads. There are several other positive reasons why your calls are increasing.
On the flip side, the increase in calls could be for problematic reasons. You could be receiving complaints from customers, or the calls may be redirected. Knowing why people are calling is important, so you can make changes to better your business.
Assign Telephone Duties
To maximize your human resources, you should select a dedicated staff to answer the calls. This lets the rest of your staff take care of other necessities. If you are experiencing a busy period of phone calls, then you can designate back-up staff to ease the burden. Some companies will hire temporary workers to help with phone calls when activity spikes.
Another option for easing the burden during the busy season is to hire a virtual assistant. Some companies turn to answering services as an affordable and effective way to outsource the task.
Make Calls Prompt
Quality customer service is what differentiates companies from each other. When it comes to answering phone calls, the staff assigned to that duty need to know how to limit the duration of each call. The goal is to leave no call unanswered and to leave no one on hold for too long. There are a few ways to accomplish these goals during busy times:
Hiring more help
Buying more phones
Limiting the length of each call
Taking other staff from their duties to answer calls
If the dedicated staff is unable to answer all of the calls during a business period, the rest of the employees need to know how to answer incoming calls. They should be able to answer questions about the business and know how to move customers through the phone system without hanging up on them.
Ways to Improve Telephone Customer Service
Whether your business is experiencing higher-than-average phone calls, or you want to improve your existing telephone customer service, there are steps you can take your customers' phone experience to the next level.
Prioritize Efficiency of Customer Service
Understanding data is important, so you can conduct a phone-traffic study. Doing this will show you when your phones are the busiest, so you know how to plan staffing. You might find that you only need extra help a few hours per day or a few days per week.
If your phones are consistently busy, then it might be time to install extra phone lines. You might also ask your staff to return calls during times when the incoming calls are slowest.
Have Appropriate Phone Lines
Some businesses designate certain phone lines for incoming calls, and others for outgoing calls. Regular customers or patients should be given direct phone numbers so they can get right to you. This reduces the number of incoming calls the reception staff has to work with, and frees them up to give their energy to new calls.
Reduce On-Hold Calls
Customers who are waiting on hold for too long will eventually give up. Some might call you back later; others might call someone else who offers the same service. One way to reduce hold times is to ask the receptionist staff to quickly acknowledge the call and take a moment to triage the situation. With a few short questions, the receptionist can then direct the call to the appropriate person, and reduce hold times.
If the customer has to be put on hold, it is important to set a time limit and procedure to check with the customer and let them know their status. The receptionist staff can ask the customer if they prefer to wait or receive a call back at a later time.
Consider Scheduling Call Back Times
Another solution in reducing hold times is to schedule call back time. Rather than playing phone tag, customers can select a time to receive a return call. The receptionist can schedule it with a scheduling app that all employees share, then alert the specific person to make the return call. If return calls are all made during slow times, then employees are able to schedule their days accordingly. In order to make this system work, employees must follow the return-call schedule.
With so many businesses offering similar products and services, the best way to differentiate is by offering high-quality customer service. This starts with the way your business answers phone calls. During the busy season, day, or time of day, it is important that there are enough people available to answer the calls. Then, businesses need to be sure that all necessary employees understand the procedures regarding the proper way to answer the phones, put a customer on hold, and redirect the customer to the correct person. When everyone is on the same page, phones can be optimized for busy times.