We all know how frustrating it is when we contact customer support—for any type of business—and get stuck with long wait times or a bot (not to mention, corny wait music).
No one likes feeling that if they reach out for assistance in trying to sort something out, they'll be made to spend their day on hold, afraid to step away and get other responsibilities accomplished because they might lose their place in a never-ending queue. Nobody plans their schedule leaving room for their all-too-familiar pleading of, "representative… representative… I'd like to speak to a human!"
Having anytime customer service shouldn't be hard to come by, but in this day and age, it sometimes seems impossible to get through to someone who can help when you need it most. 24/7 live agent customer support should no longer just be a 9-to-5 job—and it doesn't need to be.
Download: Improve your customer service with these 3 strategies!
With the digital age in which we've found ourselves, customer attitudes and expectations are shifting and proving that providing the best customer service is essential to retaining clients—and keeping your business afloat. Let's examine the top ways a business can enormously benefit from real, live agent, anytime customer service.
What Are Customers Looking for When It Comes to Anytime Customer Service?
Customers these days have higher and higher expectations—what they're expecting is constant stability in the kind of customer support they receive. In short, they're expecting to have 24/7, truly anytime customer service, utilizing an actual human (as opposed to a rather impersonal machine with which they are left to argue).
With much more flexibility in communications—such as where customers can talk to someone, as so many options have been created in this digital era—limited customer service hours no longer makes sense to the people that are looking to use your services, stress-free.
Customers also seek businesses that provide quality customer experiences. The quality of customer support is one of the most basic elements of a business that a potential customer (or a current one you're hoping to keep) looks at. Aside from that, being available 24/7 demonstrates high responsiveness in your business. It should never be difficult for a customer to find out how to contact you.
Why Should You Provide Anytime Customer Service Agents in Your Business
1. Having Anytime Customer Service Agents Solves Problems Quickly
Responding to issues promptly means you minimize the impact the issues have. Your customers will barely remember what went awry if you make sure to get it handled fast. This way, the only thing they'll remember is the unbeatable service they had—which puts your business in a great light over competitors that don't implement this strategy.
2. Anytime Customer Service Will Increase Sales for Your Business
By developing a 24/7 customer support channel, you're opening up another channel for sales, as well. Some callers will be asking for clarifications or more details, and even to ask for recommendations regarding what you are offering—and people who can best answer those inquiries can be better made available when staffing isn't so tight.
Also, with anytime customer service, inquiries can be answered at all times throughout the day. Thus, there is no downtime and your product can keep selling, even if you're outside "business hours." Your competitors are limiting themselves if they're sticking to what's "standard," and these times will be perfect for you to get an edge over them. People aren't always patient. They may tend to have short attention spans. If you're always there, and other companies are not, you become the more obvious choice for buyers.
3. Improves Customer Satisfaction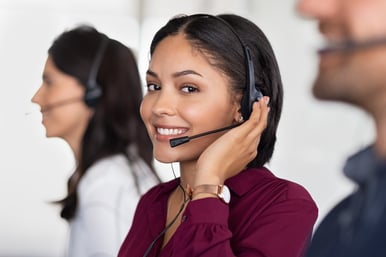 You already know customer satisfaction is the biggest factor in profitability. The earlier you can provide a solution to any problem a potential buyer might have, the better. That's how you can use this to your advantage, significantly increasing your business when you provide callers with anytime customer service.
It's all about customer experience—a negative one can be just as memorable as a positive one, so have yours be the latter and that's how your company will be remembered. You can automatically boost how you're viewed in the eyes of consumers over other companies that may sell similar solutions to yours.
4. Creates Loyal Customers
A satisfied customer is more likely to become a loyal customer. By providing your customers with anytime customer service, your outstanding commitment to customers will likely be rewarded with their loyalty. You don't just want to capture new leads—rather, equally important are your current fans who you want to always keep coming back for more. Better yet, they may even tell their friends about you!
5. Competitive Advantage in the Global Market
Differentiate your business. If your offerings aren't the most unique, bringing on real, live, anytime customer service help can easily set your company apart from all the others like it. In addition, your business can sell to different countries when you provide 24/7 customer support since there will be someone who is awake no matter what time it is in any given part of the world. Free your business from the bounds of timezones with this approach!
In a similar vein, your business can take customer calls during peak times in different regions in order to make it more likely that your customers will experience the best of your support operation.
Stop Making Your Loyal Fans Wait in Lines and Make Things More Human
In the time of ever-increasing demand and expectations that come with modern customers (who are aware there have been many advancements in technology), providing live, 24/7 customer support via a real against should not simply be an added feature anymore. Whether your business is big or small, having anytime customer service is necessary if you want to thrive in today's landscape.
With this tactic, get ready to create loyalty, gain a competitive advantage in the market, significantly improve customer satisfaction, increase sales, solve problems quickly—and so much more!