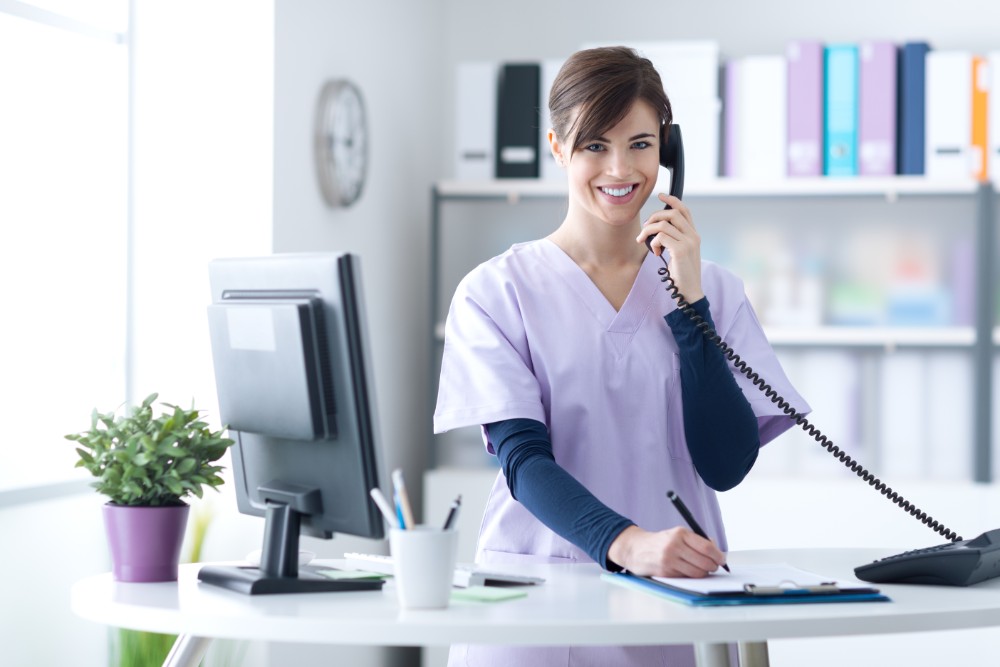 Outsourcing medical answering services for the medical industry is not a new trend; it has been a widely used option now for decades. However, as COVID-19 spreads globally, health care workers on the frontlines are at risk of acquiring this dangerous disease. The medical industry has been overwhelmed with this pandemic and it is an "all-hands-on-deck" time right now.
Let's take a look at why and how outsourcing an answering service is beneficial for you and your staff in the medical industry.
What Does Outsourcing an Answering Service Entail?
Since the beginning of the COVID-19 outbreak, the medical field has been taxed nearly to the breaking point. Given that we haven't seen the end of this worldwide pandemic, frontline personnel is poised to continue offering around-the-clock medical services in an already-strained environment with no end. With the scenario that medical professionals are immersed in, many staff members are unable to deal with the high volume of calls that come into doctor's offices, hospitals, and other medical facilities. on top of that, staff are out-of-office due to self-quarantine, illness, or vacation with a backup of messages and calls creates a nightmare scenario.
When you outsource your answering service, a well-trained experienced agent is available to answer calls, much like your front desk reception would. They can also answer common questions and forward necessary calls to medical staff. Depending on your practice and customer needs, with current conditions, you could save hundreds of hours each week by using an answering service. Answering service professionals will work with your desired call overflow and ensure all necessary calls make it through to your desk.
Benefits of Outsourcing Answering Services
Enhanced Customer Support
We are living in an unprecedented time and each one of your patients is facing the extremes of lockdown, social distancing and stay-at-home orders. It is crucial to offer alternative methods for communication between patients and medical offices beyond physically visiting. Ensuring availability for patients to call in and receive answers to their concerns and questions is more critical now than ever.
When a pandemic or national crisis hits, there are no regular "office hours" for most medical personnel. Patients need to call in at all hours of the day and night. With emergency rooms already filled and urgent care greatly strained, calling your office might be the only recourse available when a medical question arises. Due to this, patients need the ability to connect with a live person 24/7 to address concerns.
While outsourcing to an answering service will save you time in answering phone calls throughout the day, answering services go far beyond taking phone calls. The professionals you hire can also schedule appointments for your patients and set reminders on shared calendars. An answering service can set appointments and send reminders to your patients via text messages, email, telephone and smartphone app.

Cost-Effective
An answering service can save your medical office thousands of dollars. When you hire an answering service, you save expenses related to:
Training
Salaries
Benefits Packages
Paid Time Off
Overtime
Equipment
Additional Office Space
Higher Productivity and Efficiency
Time management for medical professionals is crucial. If you're not on break, then you are either helping patients or attending to stacks of paperwork at the end of each day. Taking extra phone calls, which can be efficiently answered by someone else, uses up your valuable time instead of maximizing the hours in your day.
By hiring an answering service, you'll be able to devote time to the most important tasks in your day. Your staff can focus on their patients, paperwork, and answering calls that need individual attention. Rather than taking every call that comes in, you'll be able to prioritize calls according to the level of importance and urgency. You'll never miss a vital call that needs your attention. You can assure your patients are receiving excellent customer service and professional care when you're not able to answer the phone.
Prepared for Emergency Situations
During a crisis, such as the pandemic we face, or a national disaster, outsourcing your answering service enables you to keep phone lines open 24/7 for patients and employees. When medical crises hit, medical offices are the first to become overwhelmed by the influx of visits, calls, and requests. By hiring an answering service, you do not only maximize your efficiency during normal conditions, but you also prepare your office and your employees to handle the crisis more effectively. Ensure your office stays available for patient and employee call-ins and make sure your phone lines never get jammed, no matter the situation you face.
Better Relationship with Patients and a Professional Reputation
When you combine instant 24/7 availability, more time to dedicate to your patients, and high-quality care and customer service, you provide a much more enjoyable and satisfying patient experience. The more efficiently you run your medical offices, the more efficiently you'll be able to see your patients. You'll also be able to spend more time with them since you won't need to dedicate any more time than necessary to answering the phones.
With increased efficiency and less wait time, your staff will be able to focus on the patients who need your services. They will also feel less pressed for time and can provide a more peaceful and calm patient experience. The more time and efficiency you can introduce to your offices, the more you can focus on current patients, engage with staff, and take on new patients as you free up extra time. No matter what a day may bring, you can rest easy knowing every patient under your care has 24/7 access to a professional who can answer their question, calm their fears, schedule an appointment, or connect them with appropriate staff.
Answering Services: A Medical Professional's Lifeline
Outsourcing answering services can help your offices avoid the influx of calls and taking hours away from staff that has more pressing matters at hand. During a pandemic or other crisis, outsourcing can provide numerous benefits for your office and your employees.