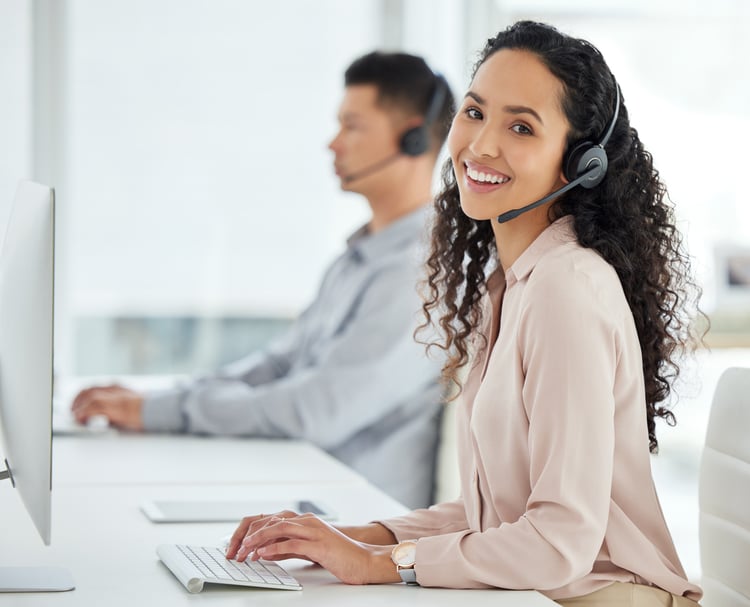 Companies of all sizes can benefit and cut costs by outsourcing certain roles to an answering service. Top-tier answering services do far more than simply answer phones and provide basic information to customers — they can also act as brand representatives and handle administrative tasks. When professionals handle the lines of communication, you can focus on your business.
You may be unable to handle every aspect of daily operations when your business starts growing. An answering service can assist customers in relieving your in-house staff. It's important to hire a call center with the best features that meet your needs.
Let's review what qualities to look for when hiring an answering service.
Around-the-Clock Answering Service
Look for an answering service that operates 24/7 to meet the needs of your customers. Call center agents will be available to take care of any problems that arise immediately.
Another important advantage of an around-the-clock answering service is that it offers support during holidays and weekends. Many customers are off work during these times and are more likely to call in with their issues.
A 24/7 answering service can also relieve stress and prevent burnout for your in-house employees. With people covering the phone lines at all hours, you and your employees will be able to achieve a better work-life balance. Many answering services don't charge additional fees for calls that come in after hours. You can ask about rates and price breakdowns while getting quotes from different companies.
Bilingual Answering Service Agents
If a language barrier is getting in the way of sales, many call centers have bilingual agents on staff. Not every customer service representative has to speak more than one language, but most answering services will have at least one or a few multi-lingual agents.
Even if language isn't an issue at the moment, you can expand your client base by using bilingual customer service agents. Customers who feel more comfortable speaking in their native language are more likely to return, growing your business. Bilingual answering service agents will enhance the customer experience and your reputation.
Outbound Calling
Look for an answering service that can make calls on your behalf. Many people think that outbound calls are only for sales and telemarketing purposes, but that's not always true. Agents can make outgoing calls for many different reasons. You can have them remind clients of upcoming appointments or payments. Call center agents can also provide customers with service or product information.
Answering services that offer outbound calling can improve relationships with customers. Reaching out via phone shows your patrons that you care about their business.
Professional Reputation
You may be worried about how well an answering service will represent your brand — and for good reason. Answering service agents act as the public face of your company, which is why it's critical to find the right call center with a professionally trained team. You don't want to be caught off-guard by poor customer service experiences.
Research different answering services by looking up reviews online. Read multiple reviews and go back a few years. Getting the full picture of the business' reputation will help you make the right decision.
Some companies use sneaky methods to get bad reviews removed from the internet, so it's important to also ask the answering service for multiple references. Make sure the call center checks out before hiring them.
Answering services sometimes reply to negative reviews to make things right. See if the call center comments on any poor feedback — their responses should help you decide. The answering service you hire will be a reflection of your business, so it's important to affiliate with a service that has a professional reputation.
Simple Pricing
It's important that you get full price transparency when you hire an answering service. If anything looks confusing, wait on signing a contract until you can get clarity on the answering service's rates. No one likes surprise fees or costs hidden away in an agreement's fine print, and naturally, you will have trouble budgeting for unexpected charges.
Be aware that many call centers don't offer flat rate options. Some answering services have price breakdowns that charge more for things like outbound calls. Ask the call center management for clear-cut details on pricing. Get a few quotes to see which company best suits your business needs, and stay away from any brands that seem hesitant to provide a price structure.
Outstanding Customer Service
Since excellent customer service is the main reason you're looking to outsource calls, a team of upbeat professionals is the most important thing to check for. You need to hire an answering service that will go above and beyond for your customers.
Call center agents need to have quick response times and the ability to resolve problems. You want an answering service that prioritizes your customers' experience. The agents need to be friendly and patient when dealing with anyone who calls.
Make sure the answering service provides professional training for their employees. Check with management to see if the staff can perform scripted calls, but note that high-quality agents will also be able to go off-script when needed.
The team you hire needs to understand your products or services, provide excellent service and keep hold times to a minimum. Customers are much more likely to have a positive experience when they can reach your business right away.
Find the Right Answering Service
All of these qualities will help you find the ideal answering service for your business. Call centers provide a solution to take the pressure off you and your employees. With a 24/7 answering service, you can keep taking calls on holidays and weekends — and with bilingual agents, you can expand your business even if a caller doesn't speak your language. Some answering services can even make outbound calls for you.
Still, it's important to be careful when you're considering which service to use. Some services implement shady practices to cover up predatory fees or poor reviews, so do your research and accept nothing less than a totally transparent pricing structure.
Perhaps most importantly, look for an answering service that aligns with your brand. Their team of agents should be relatable to your customers, and exceptional customer service increases brand loyalty. If you focus on these qualities, the answering service you partner with will help you retain current customers and even expand to welcome new ones.
Here are the most common questions to ask yourself when looking for an answering service.