Our November Call Handling Hero was able to quickly and effectively manage complicated healthcare calls and get the callers the resolution they needed.
Call Handling Hero® — Melissa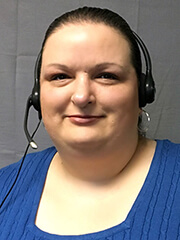 Holiday weekends can be challenging for getting complications with medical prescriptions resolved, especially when a patient is in pain but doesn't consider it an emergency. Melissa became our Call Handling Hero when she went above and beyond by reviewing a note from a previous caller who needed to refill their pain medication, but they didn't feel it was an emergency and were out of refills.
Melissa called the patient back and helped her navigate the holiday weekend with the doctor out until Monday morning. Melissa was able to work with the doctor's office and get the patient a new prescription called in so she could get the medication she needed. Congrats to Melissa as our Call Handling Hero®!
Runner Up — Martha
Martha was faced with a difficult situation, a call from a patient about chest pains. He was trying to get more information and schedule a stress test. Martha immediately marked the call an emergency and worked with our client to help the patient get the care he needed.
Great job, Martha!