This month's hero maintained his composure and provided excellent customer service while dealing with a particularly difficult caller.
Call Handling Hero® — Kyle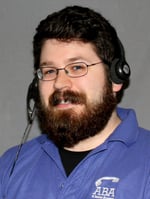 An on-call agent for one of ABA's clients called in angry because we called his backup instead of him. He refused to say who he was or which department he worked in. He was using profanity and shouting for the bulk of the call. Kyle was able to keep a cool head and deliver the message. Kyle informed him of the protocol, doing the best he could to stay calm and explain why we called his backup. Towards the end of the call, he seemed to have collected himself, completely changing his tone, thanking Kyle and telling him to have a good night. Congratulations to Kyle for being this month's Call Handling Hero®!
Listen to Kyle's call:
Honorable Mention — Sandra
Sandra answered a very distressed call from a female patient for one of ABA's medical clients. In tears, the caller described her situation as an "out of body" experience. Sandra was able to gather her information and instead of having her wait for a call back, relayed her call as a courtesy. The doctor consented to a warm transfer. Well done, Sandra!
Listen to Sandra's call: