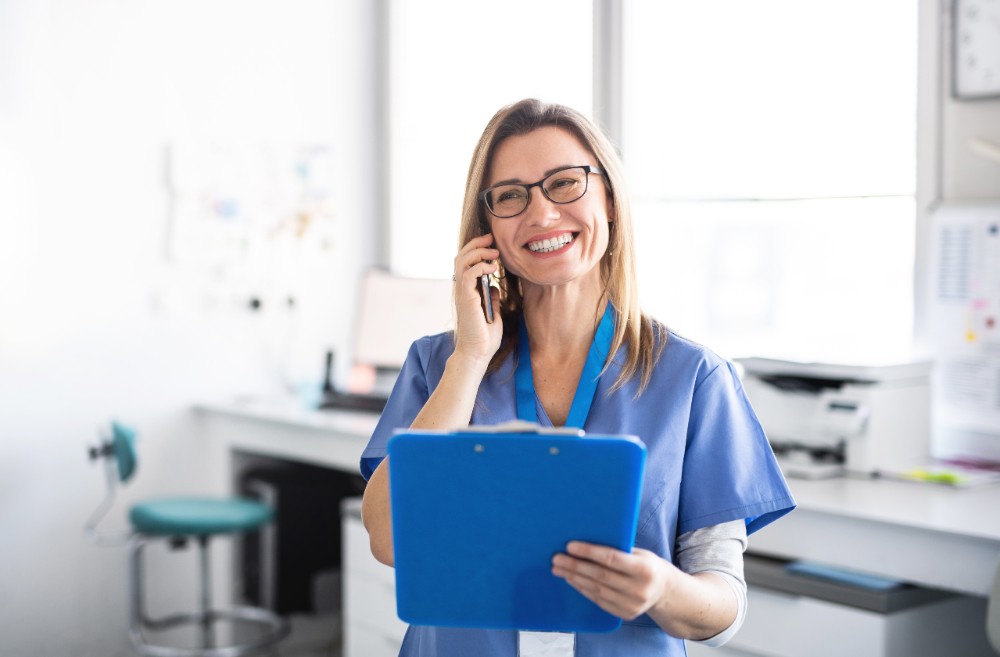 Outsourcing your medical answering service brings a plethora of benefits for your medical office. From working with high-quality medical call center agents to providing empathy for your patients, the benefits make it worthwhile. When you work with a medical call center, the agents should have at least these seven important skills.
7 Important Skills a Medical Call Center Agent Should Have
1. Deep Knowledge of a Company's Products or Services
When you hire a medical call center, the agents should understand the products and services the medical office provides. They should know how to listen and respond to the needs of the patients who are calling. While they may not be fully versed in how the medical services work, they should recognize the names of them and be able to talk about them with customers.
2. Attention to Detail and Organization
Your medical call center agents should have a strict attention to detail. They should listen and take thorough notes so they can give patients the answers they need. They should also be able to pass important information on to the medical office, especially if the patient needs to be referred to a physician. When it comes to health care, details are important, and the medical call center agents are often the first line of defense when people need help.
3. Clear and Effective Communication
Medical call center agents should be outstanding communicators. They need the training to speak clearly and listen intently. They will be on the phone with people who have questions about their health care. Part of their job is to remain calm and listen, as some of the people calling in might be struggling with illnesses, injuries, and other worries.
It can be helpful for medical call centers to employ agents who speak several languages to meet the needs of the communities they serve. As a credible source of information, they need to be able to speak clearly, intelligently, and at a rate of speed that helps their clients.

4. Adaptability and Creativity
Medical call centers need to have creativity and flexibility to meet the needs of their clients. Each day and night is different at a medical call center. And the agents need to recognize that they have to adjust regularly. The customer service base is diverse, so the agents need to meet a wide range of issues. The agents really do just need to go with the flow.
5. Empathy
Empathy is a skill that all medical call agents should regularly employ. It is a skill that can be learned, and customers will notice when it is there. They will be comfortable calling the center and speaking with agents. Along with having empathy, the call center agents should use their knowledge of health issues to be respectful and show concern for the people who call. The callers should not be pitied; instead, agents should listen and ask questions to understand what the callers are experiencing.
6. Speed
Call center agents should work with efficiency and speed. However, they should not speed through helping a caller. They should know when to listen and devote a necessary time. And they should know when it is time to move the caller along without rushing the caller. Call centers should be staffed with a sufficient amount of agents at busy times so no one has to wait on the phone for an excessive amount of time. A call center that works efficiently can satisfy more customers.
7. Patience and Staying Calm Under Pressure
Medical call center agents also need to know how to remain calm and patient. Their callers will need that, especially when they are feeling frustrated or afraid. Good call center agents know how to avoid becoming flustered during stressful moments. The best call center agents know how to help patients calm down while on the phone.
Tips to Improve Medical Call Center Agents
If your healthcare call center agents are lacking in any of these skills, there are several things that call center stakeholders can do to remedy the situation.
Invest in Training
Call center agents need to be trained to be able to do all that is expected of them. They can learn about different medical products and services. They can also learn how to communicate effectively over the phone. Training can become a regular part of employment at a call center, as situations change regularly.
Encourage Empathy from Medical Call Center Agents
If your call center agents are not empathetic, they can learn how to be. There are videos and training programs that help people understand what empathy looks like and what it sounds like over the phone.
Focus on Patient Satisfaction and Outreach
Patients are the core of any medical call center. Without them, there is no need for a call center. Whether agents are helping patients find care or working with patient outreach, everything the call center does should be for the betterment of the patients.
Implement a Patient Retention Program
Successful call centers recognize the importance of retaining patients. Good training will help build customer retention, and so will an incentivized program.
If your call center or your own medical office is not meeting these standards, there are things that you can do. One is hiring a professional answering service that can help your medical office lower its costs and free up time. When you outsource your answering service, you will have an easier time growing your business, because you can focus on your patients rather than worrying about constantly answering the phone or training employees to do it for you.
Your medical call center agent needs to meet your needs with top-notch customer service, both for your medical office and the patients you see. When you are shopping for a new medical answering service, you should not settle for anything less than one that meets these seven important skills. Without them, the call center will not be able to meet your needs.