The Association of TeleServices International recently held its 2017 Annual Convention at Palmer House Hilton in Chicago, IL and A Better Answer is proud to announce it won the exclusive ATSI 2017 Award of Excellence – Platinum Award.
Independent judges made their evaluations over a period of six months based on the following criteria:
Response Time
Courteousness of Rep
Accuracy of Call
Knowledge of Account

Overall Impression of Call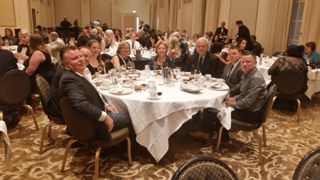 "Another spectacular year at the celebration ceremony for the Award Of Excellence program at The Palmer House in Chicago. The award ceremony begins with year one and continues through the longest participation year. While I know in my heart we offer amazing answering service, it's nerve-racking stress as tension mounts the closer to our year, never sure if we will pass...and then, yipee! Woohoo! All 3 of A Better Answer offices achieved this wonderful award," said Dee Hawkins, CEO of A Better Answer. "This is ABA's 19th consecutive year to receive this award. Big congratulations to ABA's entire staff in all offices for their dedication to excellent messaging and to all our clients, without which these awards wouldnot be possible. We look forward to another great year. Thank you all."
According to ATSI, the award was started to improve the quality of the call center industry. The award sets expectations for a successful call handling experience and ABA is proud to have been honored with it.