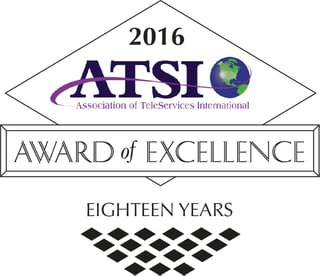 We're pleased to announce that A Better Answer has been honored with the exclusive ATSI 2016 Award of Excellence for the 18th consecutive year! The Association of TeleServices International (ATSI) presented the award to ABA at its 2016 Annual Convention in Tampa, Florida, on Monday, June 27.
Our Dallas office has won the award 18 consecutive years, while the Houston office has won for 14 consecutive years and the Fort Worth office for 13 consecutive years.
"As the most prestigious customer service award in our industry, we are honored," said Dee Hawkins, Owner and CEO of A Better Answer. "Once again, we're very grateful to the super team of call handling heroes at ABA!"
As an eighteen-time winner, A Better Answer qualified for the Diamond Plus Award. ATSI extended its congratulations to the staff of A Better Answer on their proven quality service to their customers:
"The ATSI Award of Excellence Program recognizes that excellence requires a level of service that considers the caller first in every aspect of the call. The award is earned by a company by judging the handling of calls placed by mystery callers against specific, member-driven criteria," said ATSI President Jeffrey W. Zindel. "Companies (like ABA) that earn this award are continuously focusing on delivering first class service to their customers. It is truly an honor!"
About the Award
ATSI began presenting the Award of Excellence 20 years ago as a means to improve the overall quality of the call center industry by setting expectations and measurements to ensure a successful call handling experience. Independent judges are contracted by ATSI to evaluate message services over a six-month period. The scoring criteria includes:
Response Time
Courteousness of Rep
Accuracy of Call
Knowledge of Account
Overall Impression of Call
About ATSI
ATSI, or, the Association of TeleServices International, is the leading trade association for providers of telecommunications, call center services, and answering services. Each year, an independent panel of judges place "mystery calls" to companies participating. With 400-plus agencies competing, ATSI's Award of Excellence serves as proof for all the company's hard work and determination to deliver the best possible service to clients and customers.