This month's hero maintained a positive attitude and provided excellent customer service while escalating a particularly complicated call.
Call Handling Hero® — Celby Wilson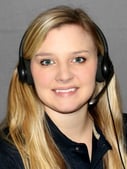 While working with an exceptionally difficult caller, Celby was unable to personally make the changes requested due to limitations on our side of the client's system. Taking the time to apologize and reach out to the client directly, Celby was able to help the caller while maintaining a positive customer service connection. Nancy, our client, understood how difficult the caller was and called Celby to apologize for the caller and thank her for the escalation. Congratulations to Celby for being this month's Call Handling Hero®!