Frustrated callers can challenge even the most patient business owner. Often times, the easiest way to calm frustration is communication. Our call handling heroes do everything they can to put callers at ease - as demonstrated by October's Call Handling Hero® Kyle.
Call Handling Hero® - Kyle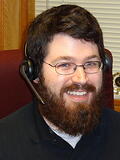 This caller was upset because she had an estimate of work completed months ago and the job was never done.
Her comments included a frustrated response, "Do they even want to do the work?" and "I've even started sanding the cabinets myself."
Kyle apologized to the caller and asked her to wait on the line as he researched an answer. He called the client who asked that Kyle pass along sincere and profound apologies. The client gave Kyle her name and number to give to the caller and she would follow up immediately.
Kyle passed along the information and the caller seemed to be in a better frame of mind.
Have a listen below:
[audio mp3="http://www.abetteranswer.com/wp-content/uploads/2015/11/Oct-2015.mp3"][/audio]