Our Fall Family Festival is always a great time for A Better Answer staff, our friends and our families but we do our best to turn our yearly good time into something special for others too. This year, we were so honored to present $5,290, collected from our Plano, Hurst and Houston locations, to Bikers Against Child Abuse!
Bikers Against Child Abuse, or BACA, works to make a safer environment for abused children and to empower them not to be afraid of the world in which they live. According to their mission statement, BACA stands at the ready to lend support to and work with local and state officials who are already in place to protect children.
Eight bikers from BACA joined us at the Fall Family Festival, accepted the gift and spent time educating everyone in attendance about their organization and their mission.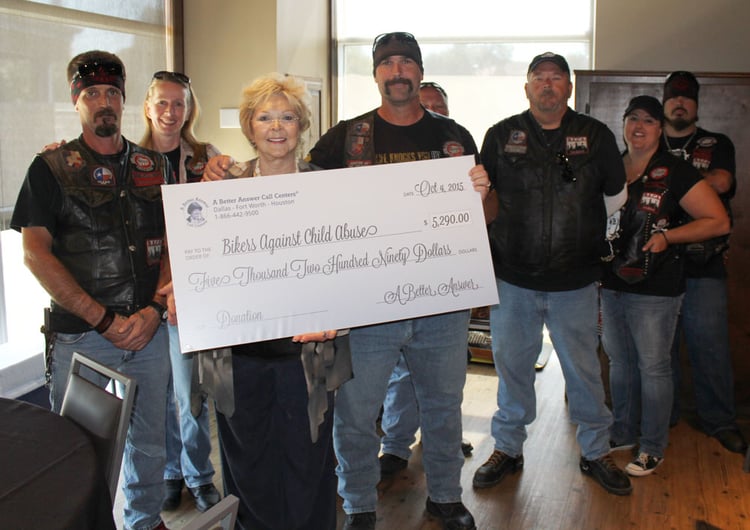 We're so grateful for our employees who participated in this summer's, "Dollars for Denim" program that allowed us to raise the money for this great organization. The "Dollars for Denim" program encouraged employees to donate a dollar in exchange for wearing jeans to work for the day. We all love to be comfortable on a daily basis, in addition to our usual casual Friday's, so this was a great incentive to give a small donation to contribute to something much bigger!
"Dollars for Denim" was so successful that we plan on carrying it on throughout the year and donating proceeds to BACA and Habitat for Humanity. Each quarter, we'll alternate charities and allocate how much we've raised during that time.
Check out our photos from the annual festival on our Facebook page and learn more about Bikers Against Child Abuse at http://bacaworld.org/.