When a client hires A Better Answer, we take on their customer base as our own. This month's call demonstrates that fact.
July's call was taken by Nina, our July call handling hero®.
Call Handling Hero - Nina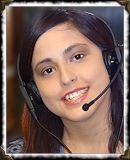 When faced with an angry caller about a missed appointment, Nina really did her research trying to find the appointment. Once she realized the appointment wasn't in our calendars she escalated the situation directly to the client. Our client really appreciated Nina's extra care for what was basically – a wrong number. Nina's care and handling of this caller helped our client save a job for their affiliate as well as their reputation.
Client feedback: Nina called me and helped me with a difficult situation.... Major Kudos! All is good because of her decision to reach out and contact me with an upset customer from another office! I was able to call and diffuse the situation and make sure that she is taken care of rather than just providing a telephone number for her to call tomorrow!
[audio mp3="http://www.abetteranswer.com/wp-content/uploads/2015/08/July-2015-CHH.mp3"][/audio]
Major kudos indeed to Nina for doing her best to diffuse a tense situation. The client and the customer really appreciated it!