At A Better Answer, we pride ourselves on hiring compassionate and empathetic call handlers. Our call handling heroes® go above and beyond. Read this story and listen to the call to see why we chose Wendell, who started working for ABA just 6 months ago, as our February Call Hero®.
February Call Handling Hero®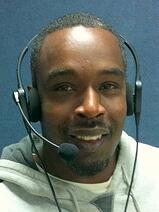 Wendell took a call from a homeless gentleman trying to find shelter. The man said he went to "The Bridge" but they were closing. "The Bridge" is the only shelter to allow dogs in the area, and all he wanted was a blanket to keep his dog warm that evening. The man had a thin jacket but was more concerned about his small dog as temperatures were going to drop into the 30's that evening. Wendell took the man's information and met him in Dallas the next day to give him a coat big enough for him and his dog. If that's not a Hero, I don't know what is.
Listen to the call here:
We're so proud of our caring call handling heroes®! Thanks to Wendell, this man and his dog were able to stay warm, not just one night, but for the rest of the season.
Congratulations to Wendell!