At A Better Answer, we've won countless awards for the quality customer service we provide to our clients and their customers. It is only fitting that we recognize those ABA employees who continue to help make us the best at what we do.
Last fall, we started an employee recognition program called ABA's Call Handling Hero® award. The ABA Staff was asked to nominate someone who goes above and beyond great customer service and exhibits a commitment to their community through giving of their time and talent. Our first award recipient has been a beautiful example to us here at ABA of what a human heart should be...always ready to Serve, Help and Give.
We did not have to look far to find her, just to the top! Our boss Dee was the first winner of the Call Handling Hero Award: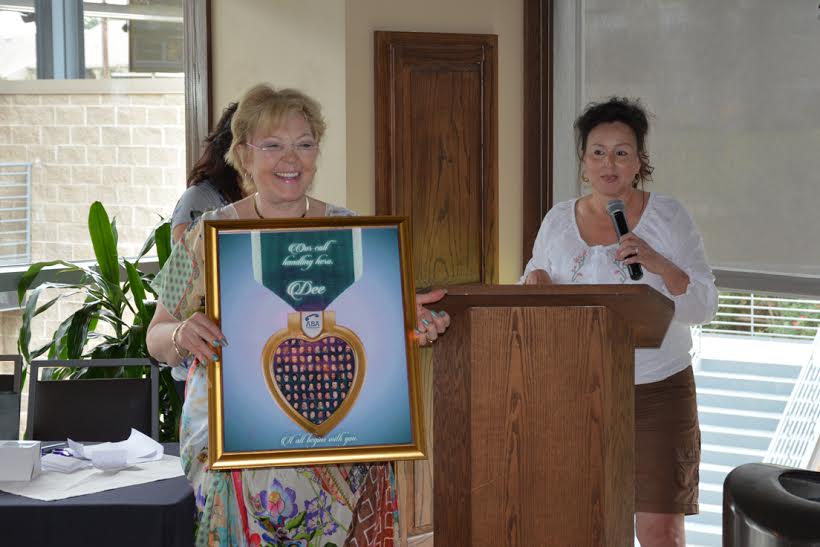 We're catching up with the winners of our Call Handling Hero® awards from the fall. Without further ado, we present our fall winners and the calls that showed us they care about what they do. We always pride ourselves on our excellent customer service and our incredible operators. Be sure to listen to these calls to hear what makes us your call handling heroes®.
Our October Call Handling Hero®
Eddie's call started out as a typical referral. This caller mentioned during the call that he had a gun "for protection for his sister and himself" and said that people were trying to "get" him. Once he realized the caller was distressed, Eddie attempted to patch caller to one of the On Call staff listed for the client. Eddie called each on call staff but was unsuccessful reaching anyone. Once Eddie exhausted the list, he reached out to 911. Plano Police asked Eddie to put caller thru once Eddie explained the situation. Unfortunately, the caller had disconnected and the call couldn't be patched to the police. Within a few minutes, however, the caller placed his 2nd call to our client. Eddie, again, took the call and immediately succeeded patching caller through to 911 Plano police for help. Eddie stayed calm in a stressful moment and was successful in helping in a frightening and emergency situation.
Our November Call Handling Hero®
Barb's call was a simple call for an address location of a business. She noticed the business was closed and at the same time, couldn't locate the address that the caller was looking for. Barb continued to be helpful to the caller and actually found the address on the business website. She could have easily ended the call when she noticed the business was closed but chose to go further to help the caller. In customer service, sometimes it's the little things that make a big difference.
Listen to Barb's call here:
[audio wav="http://abetteranswer.com/wp-content/uploads/2015/01/Nov-1BC.wav"][/audio]
Our December Call Handling Hero®
Sandra answered a call for an apartment management company. The caller wanted to get a leak fixed and no one had returned his call yet. Sandra called the management company on another line and gave the information to the management person directly. She then patched the caller through so that he could speak to the management company himself.
In this situation, the caller was already frustrated that no one had recognized the severity of his situation. Sandra understood what was happening and stayed with him to make sure that he did get the help he needed immediately.
Listen to Sandra's call here:
[audio wav="http://abetteranswer.com/wp-content/uploads/2015/01/DEC-XSP.wav"][/audio]
These calls all demonstrate the caring tone, the empathetic responses and the fortitude of our heroes to make sure the callers feel at ease and heard. We are proud to have a staff of wonderful individuals to represent A Better Answer. Congratulations to our Call Handling Heroes®!