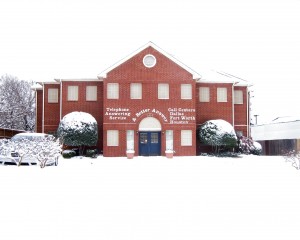 Bad weather creates all kinds of problems for nearly everyone. The worse the weather, the more problems there are. If there is snow, everything slows and the call volume really increases. When there's ice, and especially if it's on top of the snow, it's the worst ever. Trees and limbs are either broken or bent over limbs kissing the ground from the weight of the ice, power lines are down, electric is off, no water, food supplies are dwindling, streets clog with traffic and the ice causes accidents which stop any movement – businesses close and if anyone is coming in at all, they'll be late, schools close, parents stay home to watch their children, family and friends call from out of town to see if everyone is alright, and so many other reasons why people can't get all their incoming phone calls. It's bad – really bad – and no one knows when the situation will improve.
But if you're in the business of answering lots of personal and professional calls, it's even a bigger challenge to get a handle on the huge volume of calls coming from everyone. Since we handle some television advertising (among many other services A Better Answer offers), with people now staying home, they are watching television and taking the time to watch these commercials and call in to order. We also answer for the medical profession, so everyone is calling in to cancel their appointments, reschedule, looking for doctors and nurses who are somewhere on the highway struggling to get to the hospitals or offices, and all the other support services are trying to help everyone. To us, our TSRs (Telephone Service Representatives) are answering all of these calls and so many other types of calls we couldn't even begin to list them. The call volume can double, triple and be ten times more than the regular flow of incoming calls from our clients. All these calls are important and many are emergencies. And, absolutely everyone needs us to answer them, take all the specific information they need, and deliver the messages to them timely. At the same time, our TSRs must sound cheerful, polite, professional, empathetic and efficient. They are depended on to be there for each and every one of our clients and even more, our clients' customers, staff, friends and family calling.
So here's what happens when we have huge snow and ice storms in Dallas just as what happened in December and January this winter season.
To begin with, "all" of ABA's staff showed up – 100% of our employees drove through snow and ice to get to work. Our staff lives from near to far throughout the Dallas metropolitan area. Even those who live closer to the office, still had to forge through traffic sliding and skittering carefully across overpasses, other vehicles stuck or spinning on the ice and dodge fallen tree limbs. On a normal day in good weather without rush-hour traffic, driving from the suburbs to work takes them on average from 40-45 minutes. On these snow and ice days, the average drive time for each of them was 2 hours one way to work. Now that's dedication to our clients and loyalty to ABA.
BIG CONGRATULATIONS to each and every one of our wonderful staff for actually leaving their cozy, warm homes to fight weather and traffic to show up. But now that they've made it in, we've got to keep them here and not let them go out again since the roads have gotten even worse since they arrived. Well…how do you do that, exactly? We put everyone up at the local hotel one-half mile down the road and bought their meals while they stayed with us to work. In all, we had 21 rooms booked and busy 24 hours a day – scheduling rooms on rotating shifts (fresh linens between shifts, of course). Some employees had their spouses with them, others a parent who had driven them in, and others with their children. One employee even had her 4 children with her because they couldn't stay home alone with no heat. Her oldest daughter is 17 and was happy to watch her siblings while Mom worked. Everyone was so happy not to have to drive back home and at the same time, not miss any work. Of course, we ordered food for meal times – lots of pizzas, sandwiches and all the fixins for the duration until roads were once again drivable and safe.
Our Operations Lead and our Purchasing Agent drove vehicles back and forth many times throughout each day, picking up employees from home (if close) and back and forth to the hotel picking up or bringing back employees to and from work for their shifts. On one of those trips one of our employees had the privilege of doing a 360 spin and skid on the ice. No damage but she was so brave and happy to get to the office. In spite of the spin, we always try to provide a safe working environment and a shelter for our employees' safety and comfort. After all, they were working to their maximum potential serving our clients and helping ABA continue giving really good service even in spite of the huge challenging weather conditions and the thousands of unplanned for additional calls.
Our employees showed dedication and perseverance. Instead of an ordinary 8 hour shift at work, everyone was working 10-12 hours straight at minimum and no days off or time off because there were non-stop calls. One of our TSRs worked 12 days straight, another 11 days straight. We called all our remote TSRs to log on as well. Everyone available was working non-stop. ABA's Fort Worth and Houston regional offices brought in all their employees to help share the load and handle all the calls. BIG THANKS to all. Everyone worked as a team to handle all the bad weather activity messaging. What a fine group of people. They were amazing!
ABA's average time to answer (ATTA) normally is within 2-3 rings or 12-18 seconds. That's really a very solid statistic for good answering. During these bouts of snow and ice, our average ATTA was 3.4 rings. Everyone's calls rang a little longer but our clients were wonderful. We did not receive even one complaint from any of our clients. Instead, they called in for messages and thanked us for actually showing up and being there for them. With all the stress of the additional thousands of messages, a sweet person with sweet words put a big smile on all our TSRs faces.
Messaging activity reached 407% above normal activity during the ice storm. Normal productivity percentages (the amount of time in minutes per hour) each TSR spent on the phone was in the high 90's% range. Having said all this, we are sure everyone did nothing but breathe, talk and type for 100% of the time while they were at the office. Everyone gets tired and burned out working this – so giving them rest at the hotel with a good meal was the least we could do.
The BIGGEST THANK YOU to the finest and most dedicated employees in not only Texas but in the country. We did it! We survived to answer yet another day. And the bad weather is coming again! Get ready folks…