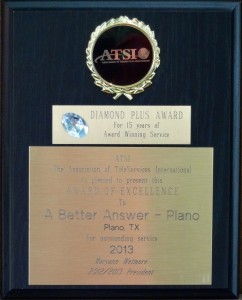 Each year, A Better Answer participates in what is the most prominent answering service industry competition to determine a call center's overall quality of service. Winning the ATSI Award of Excellence is the best way to show just how great our answering service is, and winning the award for all three offices is just wonderful! For 2013, our Dallas office receives the award for the 15th year in a row, our Fort Worth office for the 10th year in a row, and our Houston office for the 11th year in a row. We are so excited and proud of all our answering staff and are happy to show proof that once again we are among the top answering service businesses in the industry!
ATSI, or, the Association of TeleServices International, is the leading trade association for providers of telecommunications, call center services, and answering services. Each year, an independent panel of judges place "mystery calls" to companies participating. Call centers are judged on how long it takes to answer the phone (ring count), how long they are placed on hold (hold time), how the call is answered, how well the telephone service representative, or TSR, handles the call, politeness, genuineness, and many more factors. The complete list of what factors in the judges score can be found here.
This is such an important award to our company because we compete with over 400 plus agencies and winning this award serves as proof for all our hard work and determination to deliver the best possible service to our clients and customers! To see the full list of A Better Answer's awards go to our awards page!