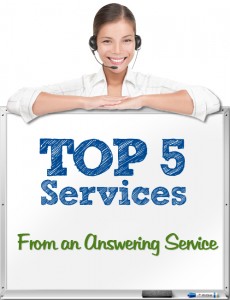 While many call centers and phone answering services offer a wide range of services from basic call handling and after hours support to web applications and order entry, we've logged our most requested and most popular services we offer and came up with this list of the top 5 most popular services from an answering service and the other names they go by.
Telephone Answering Services
AKA: Inbound Call Service, After Hours Answering Service, Phone Answering Service
No surprise here that having your phone answered is the number one most requested service of an answering service! Most answering services have many additional features when it comes to taking a message for you: they can record your incoming calls, handle calls uniquely based on your instructions (say you want your phones answered differently and messages sent only once a day while you're on vacation or a list of people who are to always be transferred directly to you), and even call you every morning for a wake up!
Bilingual Answering Services
AKA: Spanish Answering Service, Spanish-English Answering
Spanish answering services ranks high with us because our call centers are located through Texas. There is still a major growing need for bilingual Spanish-English telephone receptionists throughout the country and many companies have a Spanish speaking customer base.
Order Taking Service
AKA: Order Entry, True Call Center Services
Order taking services aren't just for big catalog businesses or infomercials. There are many companies that use order taking to send out brochures and information as well as smaller businesses with a few products to sell that just don't have the resources to do it all themselves. When payment processing is included, it becomes substantially easier to get your information and products out there!
Customer Service
AKA: Customer Care,
Outsourcing by Large Customer Service
Regardless of the types of phone calls a telephone receptionist takes, at a good answering service, they are ALL trained to be as courteous, professional and helpful as possible. It's no surprise that great customer service comes naturally to a call center and is a service sought after by companies who want a great relationship with their clients and customers.
Appointment Scheduling
AKA: reservation taking, meeting scheduling, service appointment scheduling
Appointment scheduling can be used to set, track, and organize appointments and meetings for any business that works around a schedule. We've scheduled appointments for lawn care services, attorneys, restaurants (as reservations), doctors, freelance workers, and beauty industry businesses. The great advantage to using an answering service to schedule appointments is that you can focus on working and your business, while new appointments and clients are added to calendar is always kept current and in sync without ever having to hire a secretary.
Not Just an Answering Service
If you liked the information in this post or learned something new, let us know in the comments! If you came here seeking information on call centers/answering services or are interested in hiring someone to handle your calls, you can also view the rest of our services, fill out a quote, or contact us directly!