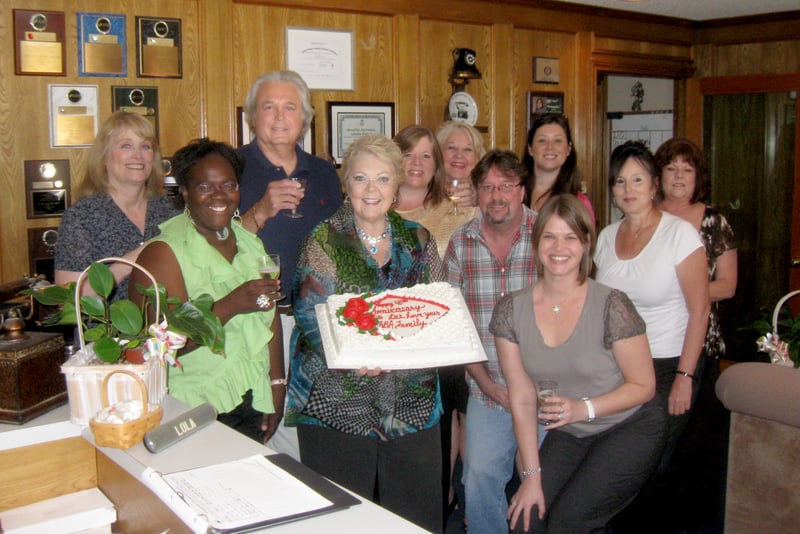 When I was a teenager, I was a speed demon on the manual typewriter and took Pittman shorthand in high school. At that time I wanted to become a court reporter when I grew up. I majored in English in High School and Business in college. So, in early 1971, when my ex-husband needed a manufacturer's representative office, I felt I had all the skills I needed to open a small secretarial and answering service with a small office in the back for him—my version of an executive suite. On August 1st, 1971 that small dream became a reality when we opened Keystone Park Secretarial & Answering Service.
The company began that day with 12 customers whom we had contacted who were already officed in the Keystone Park complex of buildings on Central Expressway and Spring Valley. Hard to believe it now, but we were only open from 8a-5p, Monday thru Friday. We started with a 20-button call directory (I was assured that it would last me a couple of years!) I did all the work by myself – from getting coffee for the walk-in customers, to making copies, to answering telephones and typing whatever needs my customers had.
Well, business grew… and grew very fast! Before 6 months went by, I had totally filled all the buttons on the call directory and now had to add a separate telephone for each new client. Before the switchboard was installed, I had black rotary dial telephones all over my desk. Each time one of those telephones rang, I had to jump up and throw myself over all of them in order to figure out which was ringing. What an amazing time! Finally, my new (vintage 1920 model) switchboard was installed and all my customers' lines would ring into it. I thought of myself as a 'baby' Lilly Tomlin then. Once I reached 60 customers, I was forced to hire my very first part time telephone receptionist so I could deal with all the secretarial and other office business services I offered.
Over the next 5 years, we installed many concentrators in order to handle business outside of our telephone exchange area. Ultimately, it took more than 15 concentrators in order to handle the business, as well as a string of switchboards with many telephone secretaries. After 5 years in business, the marriage went south. The business was divided, but my answering service continued to thrive. I offered not only the standard business times of 8a-5p Monday-Friday, but also 8a-11p Monday-Saturday.
After successfully competing in the industry with my small service, I brought in the latest call handling equipment which allowed clients to call forward their telephone line to me. Our company was the fifth answering service in the United States to have this very wonderful equipment. I have always enjoyed all the bells and whistles in software and equipment services before my customers even thought they needed them. How nice it was to be ahead of the game! After just 2 more years, I expanded my service to be operational 24 hours a day, 365 days a year. It was at that point that I changed the name to "A Better Answer Telephone Answering Service".
Ultimately, I operated 5 executive suites and 5 telephone answering service locations. As the need for executive suites lessened, more energy was focused on the answering service/call center business. I started each office single-handedly, and flew to them regularly. Over the years, technology progressed to the point that I was able to share calls between offices and offer specialized staffing in certain fields for all offices. Later, I was able to trunk lines between offices and merge resources, and now I have 3 full service networked offices in Fort Worth, Houston and Dallas (Plano). Over the past 40 years, each office was moved to a new location a minimum of 2 times, with equipment changing at least 3 times in each office.
Today, A Better Answer's customers consist of a blend of call center clients, full range of clients in the medical field, as well as traditional telephone answering service customers. Electronic scripting has allowed all of our customers to have each of their lines answered according to their preferences, and provide personalized messages that contain special requests.
We are proud of the fact that A Better Answer's staff has an average of 15.5 years tenure, and each office manager has been with A Better Answer in excess of 30 years. The dedicated employees of A Better Answer have allowed the business to prosper and provide a solid future for everyone. I am extremely thankful to be alive and well so that I can celebrate these 40 years with all of them. A Better Answer Call Center is truly the Best! -- Dee Hawkins