Is an Answering Service Right for Your Medical Practice?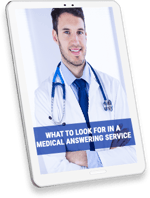 Whether you're at a large hospital or an independent practice, handling calls from patients can be difficult. After all, a high volume of medical calls comes with a variety of stresses, such as:
Patient satisfaction negatively affecting the brand image of your practice
Not being able to deliver a consistently exceptional customer service
Spending too much time on the phone instead of with patients
Multitasking to manage other responsibilities while on the phone
An answering service can alleviate all of these pain points. The only question is: where do you start? Fill out the form to download our guide on what to look for in a medical answering service and how the right one can meet all of your needs.
Fill out this short form to download the guide now!